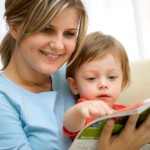 It is often emphasised that parents should read to their children from as young as 1 year old.
Firstly simple exposure to reading increases the likely hood that a child will develop prerequisite skills for reading (Abraham & Gram, 2009).
Seriously what is the go? Why are kids band-aids so small? Yes, I am not completely clueless, I understand kids are little, but their war wounds certainly are not! And that is the riddle of kids band-aids.
Women are supposed to automatically tap into their parental intuition as soon as they become mothers, however I am not so sure I was given that gene. My husband on the other hand seems to have tapped into his. Last night for example, he "intuitively" knew that my son was putting reams of toilet paper down the loo – how was this possible? I dismissed it at the time, but sure enough this morning I find my son in the bathroom unraveling the paper straight down the toilet so he could get to the 'telescope'! When I asked my husband how he knew, he just said "I don't know, I just had this feeling".
The Interior Designer, a Cushion Tosser
When the film industry portray an "interior designer" images of Martin Short as Franck Eggelhoffer, the neurotic designer from Father of the Bride II come to mind. Designers' are often portrayed as people who are egocentric, expensive and who spend their day going around say "darling" and throwing cushions around. This description could not be further from the truth. A qualified interior designer is a mine of information, contacts and your money saver. They are your co-ordinator, designer, creative thinker and budget controller. Certainly not terms generally seen as associated with the profession.
For other than HSC students, the end of the year means not only a break from school but also from tutoring. Yet most parents feel a little insecure about such a long break and worry their child will fall behind in the New Year. They often want to schedule some tutorials during the break (not such a bad idea) but still feel anxious about all that free time. So as a tutor, I often get the question – what should they be doing in the holidays?
My client was dismayed! Her 1934, delicately painted, fine bone china afternoon tea set was worthless…not because it was poor quality but because she had failed to use it. We were de-cluttering her attic and she decided the tea set inherited from her Uncle could be sold, but upon inspection, the antiques expert advised that it was full of star cracks and would disintegrate once filled with hot beverages. To stay useable, fine bone china needs to be used. By storing it for "good" she had denied herself years of pleasure using it and several hundred dollars from ultimately selling it. The saying "Use it or lose it" is applicable to more than fitness; it can also apply to our possessions.
We have expensive dinner sets, wine glasses and cutlery, which we "save" for special occasions.  For twenty years I hung on to a set of glasses that were a wedding gift. Several years ago the ordinary kitchen glasses needed replacement and I decided not to purchase new ones but to commission the "special set" for everyday use. The whole family commented how nice they were to drink from.
Using "special" items we already own, rather than making another purchase, saves more than our hip pocket.  The environmental cost of purchasing duplicate items for "good" and for "everyday" is worth considering. And then there is the issue of space. A recent survey by the Australia Institute revealed that one in eight Australian families have moved house in order to accommodate their "superfluous stuff".  Although retailers may wince, one simple step towards de-cluttering your cupboards could be to start using your "special" items for everyday and in doing so make every day more special.
Using quality items means simple pleasures are enhanced. A cup of tea is nicer from a fine cup than a cheap clunky mug. Of course there is always a risk that in using it, it may be damaged, broken or become worn, but you will have had the enjoyment of its use on a daily basis. So I have now resolved to use the special for everyday; as the ad says "because I'm worth it".  So what beautiful items are lurking in your cupboards that are crying out to be used?