A wish for all our members past and present, may all your major troubles be behind you and we hope your business grows to where you would like it to be!
Like jam and cream go hand in hand, so too does networking with running a successful business. But many of us dread walking into a room and introducing ourselves to a bunch of strangers.
The easiest way to grow your customers is not to lose them
It's difficult to stay focused on your business goals when challenges arise and your determination is tested if you don't know why you're doing something.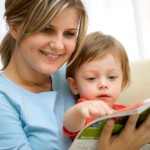 It is often emphasised that parents should read to their children from as young as 1 year old.
Firstly simple exposure to reading increases the likely hood that a child will develop prerequisite skills for reading (Abraham & Gram, 2009).
It was a week like any other. Nothing new, just memorable because of the great start I had this particular Wednesday morning. It began with JT coming into my room at some ungodly hour, climbing in the bed next to me and falling asleep till 6.30am. A much welcomed change to talking incessantly, flopping all over the bed frustrated at a groggy mum or introducing all his 'favourite' toys and books to me to entice me to play – all at 5am(ish).
So, I'm sitting in the car repair shop. They said it would take 1 hour but it is now nearing 3 hours and I have the shits! Luckily they have really good coffee (it's also a Mercedes dealership so they bloody well should). They also have WiFi (bonus), but there is only so much "playing" you can do on an iPhone – right? Then I spy the magazine rack and my anger begins to diffuse as I discover my very first Girl Crush.
We are headed to New Zealand next year for a wedding and as the fabulously organised parents that we are, we have the bookings done and dusted. The last remaining hurdle though is figuring out babysitting details for the night of the wedding. So, as I am not a huge fan of leaving my son with a stranger, I asked the lovely Julie Warner from Julie Warner Travel Plans to help me with some ideas on finding babysitters when you're on the road.
Seriously what is the go? Why are kids band-aids so small? Yes, I am not completely clueless, I understand kids are little, but their war wounds certainly are not! And that is the riddle of kids band-aids.